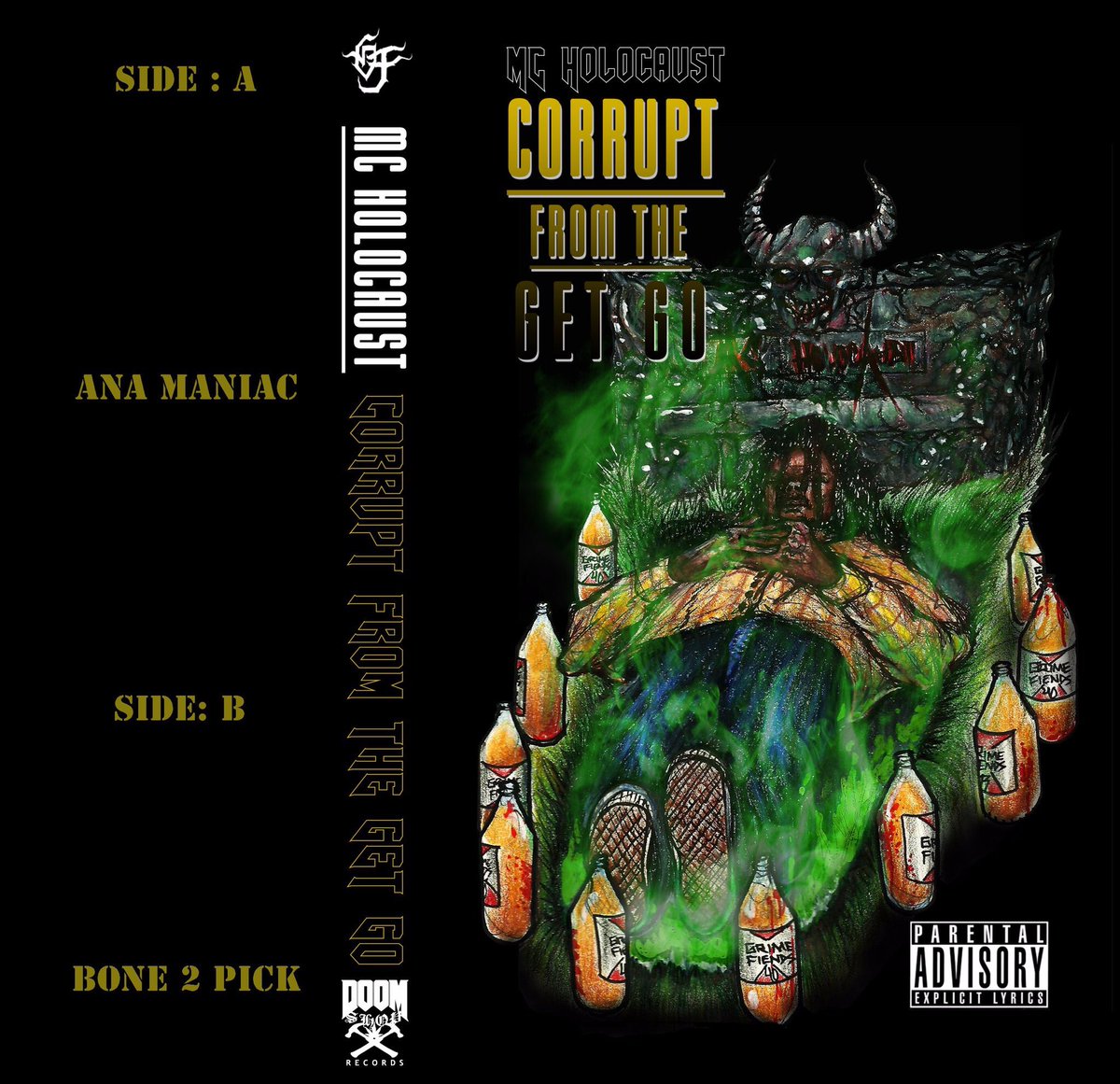 CORRUPT FROM THE GET GO by MC HOLOCAUST
The Birmingham, Alabama based MC Holocaust, one of the co-creators of Doomshop Records isn't concerned with the hype, he makes no attempt to work with artists who have a buzz or change his sound to a popular or commercially digestible one. It's dialed in and zoned out, ominous funk, and Candy Drips is fortunate to get an exclusive premiere of his latest, Corrupt From The Get Go.
A sound directly influenced by the evil sample drenched, 808 patterns and choice of circumstance lo-fi vocals of mid to late 90s Memphis rap that spawned the obscure subgenre Devil Shyt. Although Memphis artists coined the term first, Devil Shyt is now a community with artists from all over the globe, creating dark atmospheric street based horror stories in rap form. Now throw in Houston's dark offerings (the Geto Boys obviously, Ganksta N.I.P, Point Blank etc), the sinister side of the West Coast scene (Brother Lynch Hung, X Raided, even Spice 1 although he never gets the props he deserves) and some will also say, early Spaceghostpurpp with his Phonk creations. No-one has a better grip on this murky melange than DOOMSHOP does right now. Holocausts' tape is like a South Park Coalition release with most of its production handled by in house artists covering all these sonic elements and more.
The amount of timeless samples embedded on this tape are drowned out by unrecognizable rarities, a signature Shop move, in a successful strategy to distance themselves from the pack.
For instance, the intro track, Nobody Likes U Holocaust (produced by KevinTheCreep), contains a perfect Adina Howard sample. Seconds into the tape and I'm already blown away by its usage. Next, Hate You More Than Myself  begins with an uncomfortable Requiem For A Dream scene soundbite while Gangsta Walk Adolf contains Scarface and Bushwick Bill snippets, a salute to that aforementioned Houston influence and a heavy bass that sounds very similar to the one used on the Keith Murray track Dip Dip Di but slowed down, a la DJ Screw. Besides the intro it's all paired with Holocausts laid back devious flow.
The title track continues the audio mayhem and Mothafuckas Don't Exist (a crazy, rattling beat produced by Bonkura) contains my favorite lyrical quote (the devil, heavy metal, very skilled with a shovel / disrespectful, next level, fuck life, I ain't special) while Gotta Plan 2 is pure on a mission mentality that has been missing in rap for years. On A Rampage Ghetto Blaster (produced by Jak3) starts like a UK bassline track before quickly spinning off into an advanced get buck state and Undaground Enemy (AKOZA edit) where 'Caust states (OGs I sample really fuckin with me / Ima real MC / undaground enemy) maintains the momentum.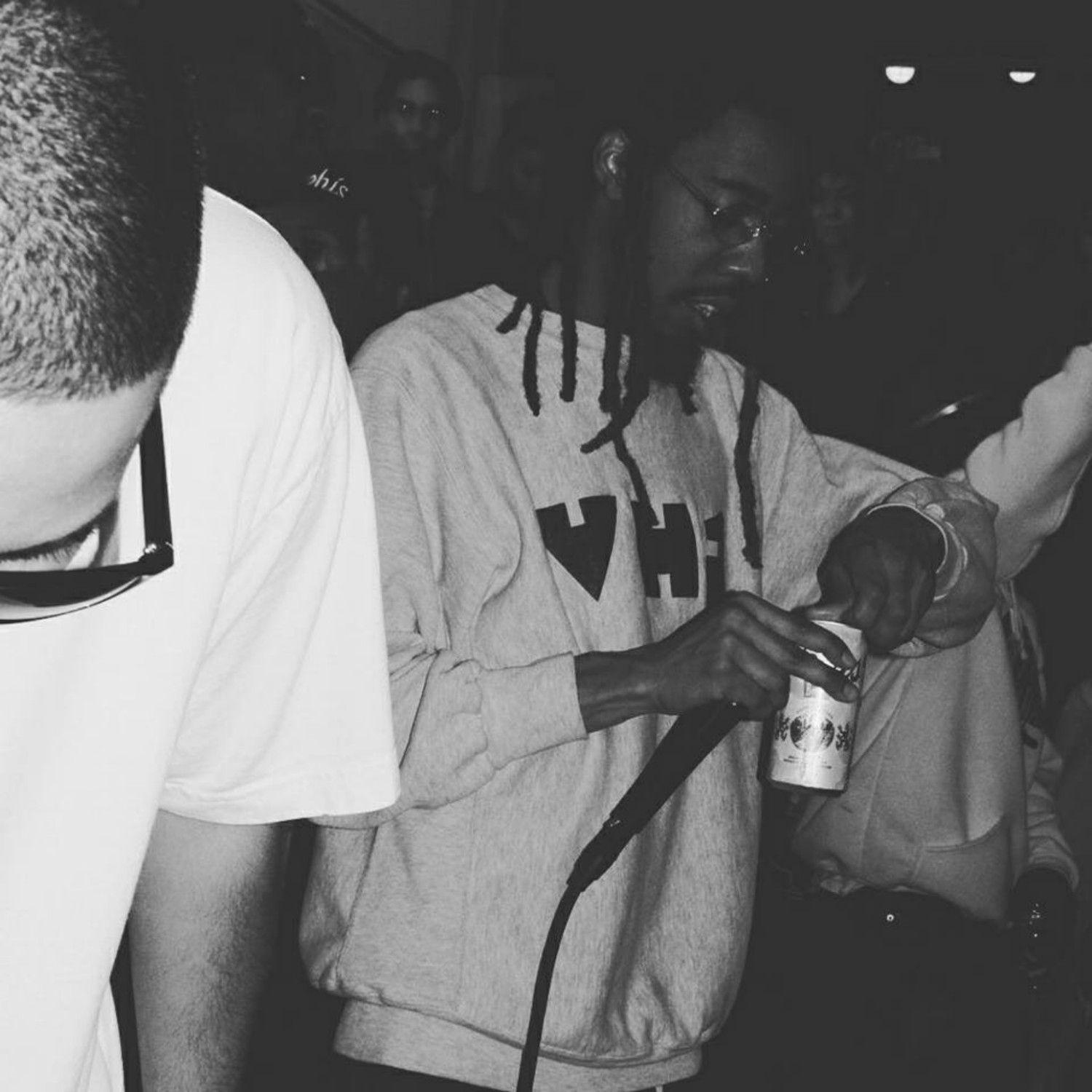 Here the tape transitions to smoother selections, like the barrel has gotten too hot and it needs a cool down. Feeble Hearted (prod. by Jake3 and KevinTheCreep) is a lil ranfla roller while Execute Me, Gospel (produced by DJ Sacred) and  Another Friday Night (produced by Tyris White) featuring Slim Guerilla also both seal in the funky flavor with soulful source material.
I excitedly compare this movement to B movie culture, for decades remaining far outside the big industry rap and Hollywood radars. Often low budget, shocking, exhilarating and well, usually problematic. And with a name like MC Holocaust, it's not a reach. Every time I see his name I think of the 1975 film The Black Gestapo. It makes normal people uncomfortable but for those who seek out the nasties, it fits like a murder glove.
-CECIL BLAM DEMENTED
Twitter: @BLAMLORD