I just got the private link to '3 Tha Hard Way' and I'm feeling blessed and inspired and not just because I got an advance link on the latest album from some of our favorite collaborators and labels Green Ova South; (Pepperboy and Squadda B. with Young God exclusively on production) I'm at my DJ (my day job…) with two more hours on the clock, on my way back from my truck to retrieve my headphones and it hits me; "Work Till I Die" starts to play. The intro track is just the motivation I needed to get through this day.
Steam the album now via bandcamp and it will drop on all streaming services ASAP!
It would really be tough to sit here and talk about "stand-out tracks" on a 9 track album of straight classics. I'll just have to touch on em' all. My words won't do it justice, but maybe my excitement will! (I've only had the album a couple of hours and it comes out tomorrow.) It's been 3 years since we've seen a full length release from these three. If you didn't happen to catch KRWU (Kome Ryde With Us) now is your chance to get caught up!
The first track "Work Till I Die" hits you right off with an impact comparable to soundtrack vibes with horn-like synth pads and melody. It's another epically captivating composition from Young God. The opener is a song about the everyday grind required to maintain and survive. Trading verses back and forth Squadda and Pepp come with anecdotes about going to work and affirmations of what putting all that work brings, should their goals be reached.
'Without U' is a cruise down memory lane of the history of the Green Ova South saga. Travel back in time with Squadda and Pepp to the beginning of their collaborations as they serenade you, the supporters, the friends, producers, crew members and everyone that's showed love. Lil B even gets a shout! (they go way back.) This track really harks back to the KRWU record sound. When you bust out the SUB pads on the beat, it just feels like $ !
'Str8 Off Da Block'; Bridging the Gap from the West to the South is something that comes naturally to these guys. Since Rebel Muzik Squadda and Pepperboy have always met up in person to record and produce their full length joint efforts. This time around Pepperboy made his way to Oakland and met up with Young God and Squadda to write and record the entire project in a matter of days. This song title is also a straight rip of Pepperboy's FIRST ALBUM EVERY RECORDED from 2002! It has continued as a series over the years with the latest installment 'Str8 Off Da Block 6' dropping late 2016. That album also had a feature from Squadda!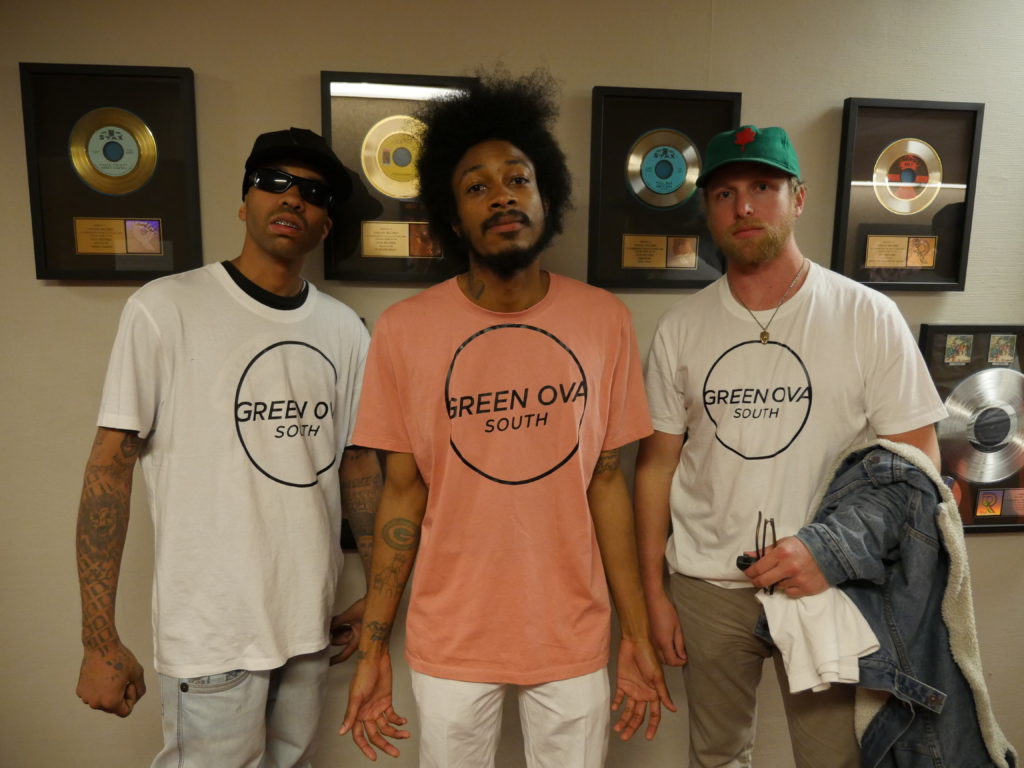 'Take It', is a solo Pepperboy track that exposes us to some darker places and perspectives. Young God brings the vibes with a whistling melody that reminds me of "the wild west" or something you'd hear in a cowboy movie in 2019 over the chorus while the rest of the tracks' timbre is a bit more ominous and eerie.
We could call the title track '3 Tha Hard Way' a good way end a Side A, if this were an LP. It may be the most unique on the album in that the beat sounds like some classic 80's synth pop ballad with a savory, sexy saxophone solo sample blazing through the mix.
By no means is the rest of this tape any kind of "B-side". 'From Tha Bottom Up' is what I would call the most 'hype' track. Dope G of Green Ova pops off immediately with a round of the chorus. Young God went across the world and into some worm holes into other dimensions and universes to manifest his sonic palette for this one.
'Step N 2 Tha Water' was released around a month ago on a single drop with 'Without U.' This is what those who remember may call a "cloud-rap" banger. Slowed down vocals and that half time snare slap get you lifted with the quickness, but the funky legato bass line Young God slathers throughout this track really keeps you moving.
The arpeggiated harp on 'This Is International' over the sub bounce groove may take you back to some classic Squadda B and Main Attrakionz days but with a cinematic, enchanting depth.
The track ordering on this tape is perfect. It's strong all the way through. The conclusion to this piece of art is 'Made My Mind Up', an uplifting message over serene melodies (steel guitar samples?). The features from Dope G and Robbie Rob fit like a glove. After several repeat listens I've definitely made MY mind up ; this is Album Of The Year so far!
Follow the members of Green Ova South
Squadda B : Twitter, IG
Pepperboy : Twitter, IG
Robbie Rob : Twitter,
Dope G : Twitter, IG
Young God (televangel) : Twitter, IG
-Froze (Candy Drips co-founder) Twitter: @candydrips