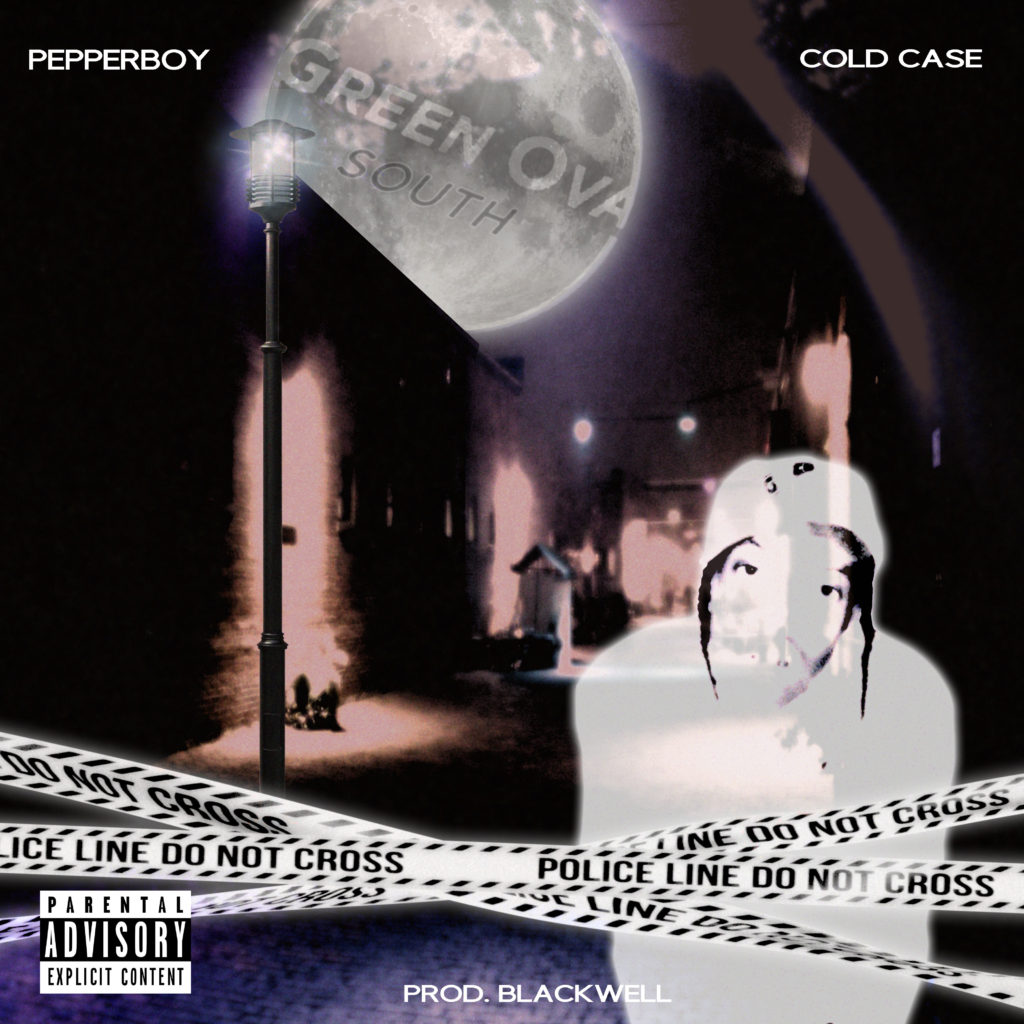 "Ive been busy im working ..but IM BACK"
– PEPPERBOY
Produced by Blackwell, 'Cold Case' carries a brooding ambient-leaning bounce that pairs well with a side of Pepperboy that fans of the Arkansas artist will find familiar but fine tuned. It's a haunting soundtrack for the graphic scenes and scenarios drawn lyrically.
Every day you can see it on the local channels – no matter where you live – you grab your phone in the morning – it doesn't matter where you look, there are horrible stories of murder, death and violence. The tone is set with an in-character intro;
"There are no witnesses, no-one has come forward – if you have any information, please call the local police station."
Now we are tuned into channel 11 and the news ain't good fam; Pepperboy voices News Station's Anchor. Another Day, another update to the harsh realities of the crueler side of life.
"Body drop, they put it on the news, Channel 11, add it to the ghetto blues ; cold case, the killer got away, they stopped looking, this shit happens every day" – Pepperboy pops in on the chorus in a deep ghostly whisper as if a warning from the other side or somebody horrified by what they've seen and are getting shook by the story they're telling.
Pepperboy tells the audience how it goes; a third-person look with an all too familiar narration showing different perspectives and the sad, sad endings to risky business gone wrong or just being in the wrong place at the wrong time. These stories of unsolved murders are sold back to us on all platforms daily but Pepperboy is not here to glorify or analyze the situation; these are just cold hard facts. There is no actual mystery, only the pain felt by those affected by the loss at the end of it. Unfortunately the truth is we cannot rely on the justice system or the local authorities to invest too much time in solving these daily murders when they turn a blind eye to the communities in need and are left without leads or are even guilty of cover-ups, corruption and outright murder.
The song is out now and if we know Pepperboy we can expect to see some more new records on the horizon – New Pepperboy is always good news!
*GreenOvaSouth – '3 Tha Hard Way' cassettes coming soon !*
PEPPERBOY : IG – @Pepperboydavie / https://pepperboy.bandcamp.com
BLACKWELL : IG – @Blackwellflame /
http://www.blackwellmusic.com