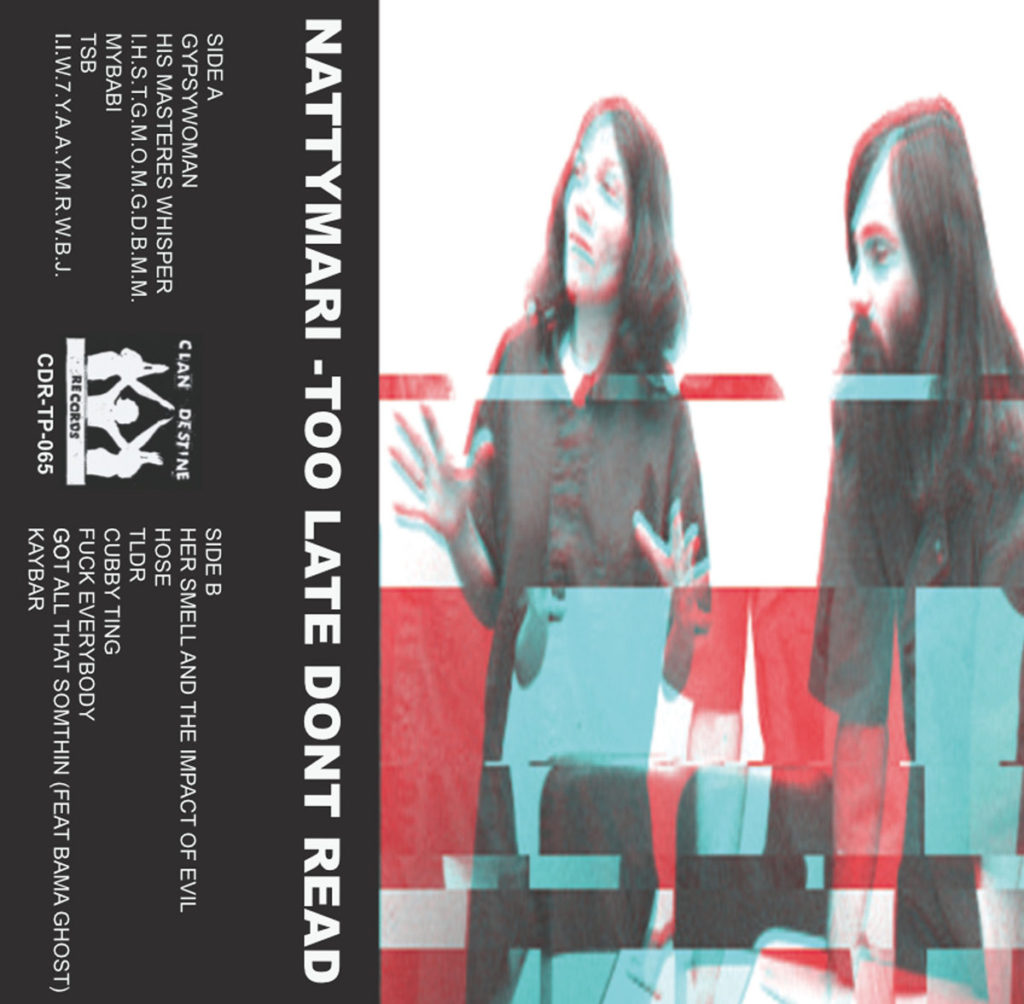 TOO LATE DONT READ by NATTYMARI
blamblamfever:

Go 'head Nattymari. I'd really love to see him live with a few projection screens, fog machines and promethazine. He is the beast in the house of witch just melodically plodding through, one uncategorizable thump at a time.

I wrote this seven years ago and it still rings true. The uncategorizable thump connoisseur Nattymari returns with a new album out now on the equally underground Clan Destine Records. Both stalwarts in the witchhouse scene but known for so much more than that labeling, Natty and Carl Clan Destine have pushed real vibes, championing DJ Screw, obscure southern rap, house, techno, minimal synth, LoFi and basically all things experimental. Much like this label Candy Drips, and its creators. It comes from a crystal clear love of rap and electronic music, all its filthy aspects, a desire to explore them, cultivate them, contaminate the mainstream from fissures in the depths while never engaging much with it, except to maybe snatch a sample, illegally. Which brings me back around to that wanting to see him live bit, it wasn't meant to be, Nattymari is a ghost in the machine, a recluse, transmitting from a self commited exile.

I don't want things to go back to any Golden Era in music, I just want progression through experimentation and Nattymari has never let me down. Through tracks and visuals he has been throwing down the gauntlet for over a decade. And this album, Too Late Dont Read is no slouch in the throwed department.
From the jump,  its already a journey.  Gypsy Woman is a mellow, warped percolator that begins to jack like a raver dragging themself from the floor once the ecstasy high has burned off a little. The bass on His Masters Whisper is ominous and Nattymari utilizes hi-hats like the Legendary Traxster did in the 90s, he weaponizes them.  I've Seen The Greatest Minds Of My Generation Destroyed By Meme Music gives me chills,  a fully layered jaunt that reminds you, if you were fortunate enough to see them, of the videos he has created to accompany his sonic mutations.  Its that fleshed out. Speaking of flesh (trade) And Super Creep sounds like a sex droid malfunctioning, humping the floor, crawling spider-like towards its horrified client (soon to be victim) while it's insides violently bleep glitched music snippets as sparks shoot from its orifices. On If This Was Seven Years Ago All You Rappers Would Be Juggalos, a monster synth line is accompanied by a hilariously angry diatribe.
The B side starts with the slow burn of Her Smell and the Impact of Evil then immediately revs up next with Hose, an off kilter beat with uptempo club touches and the title track, T.L.D.R has that post footwork urgency too.  Next up, Cubby Ting is a dubby ting, a King Tubby ting, skanking along at a real rude pace.  Slowing it down even more, Fuck Everybody hits that boulevard cruising speed and plays like a DJ Screw grey tape that has been warped in the heat of a Cadillac glove compartment. Complementing the chaotic flow of this album Bama Ghost is the only feature on the next track, Got All That Somethin with a delivery like a based Brotha Lynch Hung or more accurately, a Houston freestyle like my personal favorites, Big Wen from Beltway 8 or Al D from S.U.C. Kaybar closes it all out with a ghetto tech and breaks adventure clocking in at a minute and a half. Its not just some beat tape. It's different. It's Nattymari. 

-CECIL BLAM DEMENTED
Twitter: @BLAMLORD