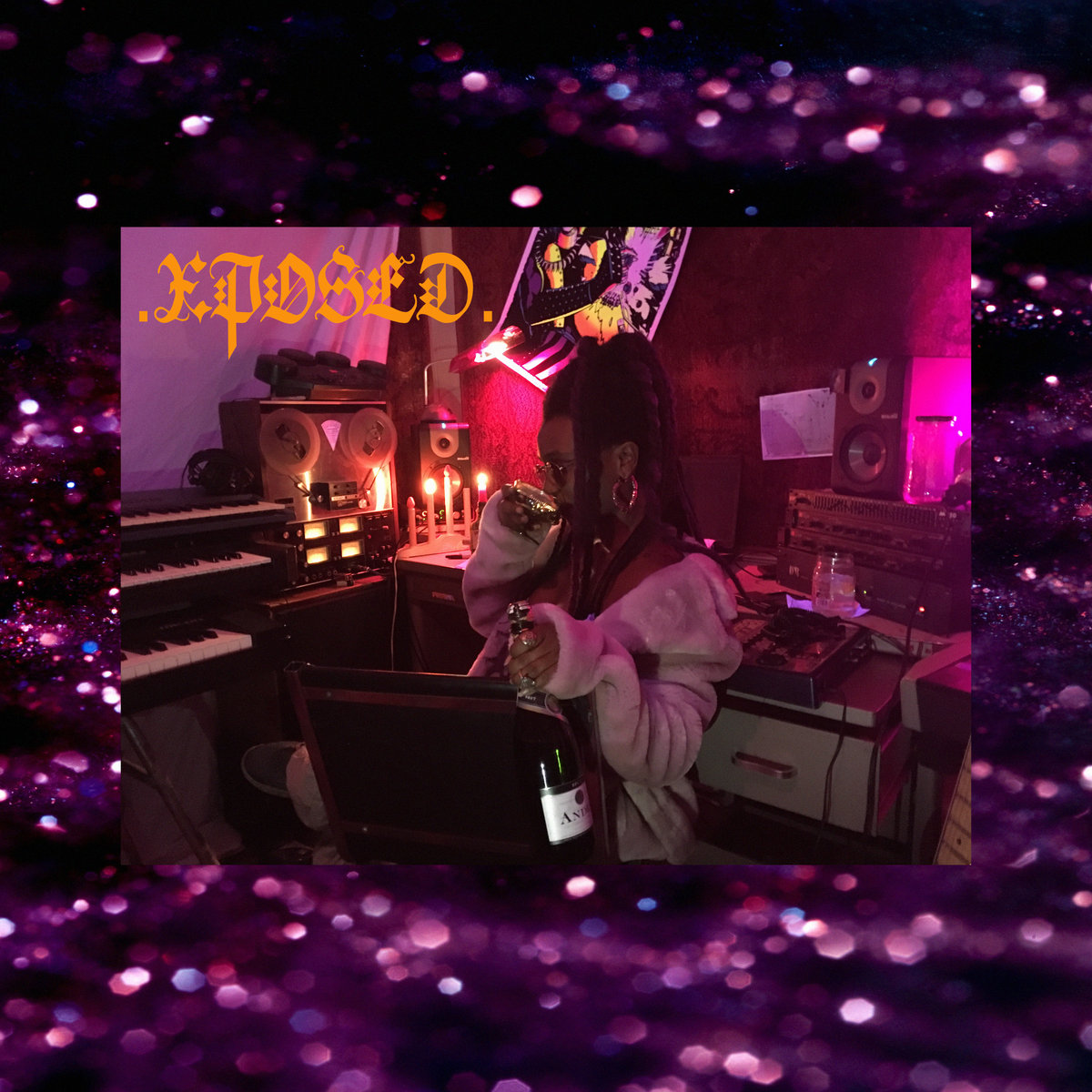 It is so great to hear new music from Stash Marina! The wildly talented rapper, singer's and all-around-awesome person's latest Xposed is absolutely her best work yet. The whole EP feels like a sort of personal essay or poem. Really Stash describes Xposed the best on the Ep's Intro. Over a new age slow jam of a beat, Stash sets things up for us: "I like to keep it upbeat, happy. But that's not the reality of things. There's a time to show people they can have fun, but still express how I feel about shit."  And Stash truly is expressing how she feels. She totally bares her soul on Xposed. The Ep is a mediation on relationships, The good, bad and ugly. And, how they go from good to bad to ugly.
One of the standout tracks later on Xposed, is the dark, wavy R&B of "Swoop'd." Stash tells the story of a relationship starting out with infatuation: "everything about you I had never seen before/pants, shoes, attitude." But, as the song goes on we see things fall apart: "you just making shit up to a twisted reality/you don't want me and/you sabotage it again and again and again." At this point Stash is angry sad, maybe confused, but then we get to the aftermath when she sings "Yeah I got my heart broke/I don't give a fuck/because at least I got to try this shit out" Stash's music has always been self aware and insightful, but Xposed is really next level. Those lines at the end of "Swoop'd" are an important theme throughout the whole project. Stash is right there in the moment feeling these powerful emotions, but at the same time she is taking a step back and reflecting on everything she has been through.
Right after "Swoop'd" is the the EP's saddest moment, "lovelost." Stash opens the track the very heavy and very real statement "This is a sad one. It was the only one that actually mattered." And, she goes on to rap about reconciling memories of an ex who she has feelings for– "visualizing your face thinking of you as nothing but that gold," –but who she knows has hurt her and will do it again: "you still didn't hear me/tore me up to watch it/you knew me too well/and you still jumped out of pocket."
I know I described Stash as a "rapper and singer," but really her music is unique a hybrid of both.  On one of the Ep's more playful moments, the excellently named "you betta be muh fuckin jesus," she raps for the most part, but sings her adlibs in the background effortlessly.  Stash has always mixed singing and rapping in her music, but her vocals on Xposed are the strongest they have ever been.
The production also is a perfect fit for Stash's balance of emotional depth and introspection, but also just her downright grooviness and swag.  Over its 8 tracks, Xposed features a diverse batch of soulful and complex production with contributions from many of her frequent collaborators. Feathermeal, Don D, Froze and Blown (of Candy Drips fame!) and Stony Willis all have beats on the project. The production ranges from the ethereal reggae of "RosyHips" to the lo fi jazz rap of "you betta be muh fuckin jesus" to the  bass heavy funk of "muerte del amour." Not to mention that unique synth anthem for the aforementioned "XPOSEDintro", and the solemn, minimal sounds on "Lovelost."
Even though she is being very open and vulnerable on these songs, we should  in no way take that as sign of weakness. As Stash points out in the intro: one side of Xposed is exposing her feelings and experiences, the other is about exposing folks who have wronged her. "fuk boi" has got to be one of the most beautiful R&B songs calling out shitty men. And, the more songs calling out shitty men the better. The whole song is full of great lines, but one of my favorites is: "And you bragging to your boys how your money game specific/but you show up to my crib with a beer/asking can we split it/oh you ballin now."
The righteous anger continues on the triumphant "free." Stash once again goes in on people who are her way: "excuse me? Do I need to go get my peeps and kick your bitch ass on Canal Street?" It's a hilarious line, and it's clear Stash is not taking anyone's shit. But,  Even though this track is much more aggressive than other moments on Xposed , Stash still keeps things positive: "stop hating on us get your shit up with us." Having "free" as the EP's final track is a brilliant way to sum up the project. Stash has gone through a lot. But, in the end she is  moving forward with her head up, handling her shit. She's free.
You can listen to Xposed, and all of Stash's music on her bandcamp
-Nicholas Vogt
Twitter: @nicholasvogt